Clear Acrylic PPE Holders for Masks and Gloves
---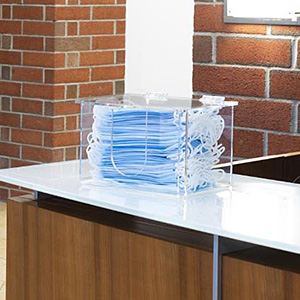 Acrylic Bins and Holders for General-Purpose Protective Gear
When it comes to personal protective equipment, masks and gloves need to stay clean and orderly. Our PPE holders provide medical staff with convenient access to the everyday supplies needed to perform their tasks safely. Suitable for solo and group practices, laboratories, clinics and hospitals, these bins and dispensers are available in counter and wall-mount models. Our PPE holders are manufactured using clear acrylic, which is an easy material to clean — an important consideration for any health provider. In addition, the clear construction provides visual confirmation of inventory to ensure supplies always remain stocked.
PPE holders designed to store earloop-style masks come in bin form with a hinged access lid. A scooped opening in the front of the container allows for easier dispensing when the mask level gets low. The holder is intended for countertop use and occupies a small footprint to save on space. Wall mounted brackets hold latex or nitrile glove boxes and come in single and dual-box models. The acrylic dispensers feature an easy, open-load design. Simply pull off the box top and slide the cardboard container inside the wall bracket.
StoreFixture sells a large selection of COVID-related safety supplies for healthcare workers and employees working in the retail and restaurant industries. In addition to personal protective equipment, hand sanitizing stations with anti-bacterial gels and foams provide high visibility and easy access.