Coronavirus Floor Markers with Self-Adhesive Backers for Indoor or Outdoor Application
---
Pre-Printed Safety Decals for Social Distancing
Is your business reopening under new COVID-19 regulations? These coronavirus floor markers are pre-printed with messaging to guide your social distancing efforts and ensure the safety of your patrons and employees. As you start to let customers back into your establishment, maintaining the proper six-foot separation can be a difficult task without the right signage for the job. With their bright, vivid coloration and clear messaging, these self-adhesive coronavirus floor markers are easy to spot and easy to read, making your store or restaurant's social distancing rules easy to follow. Each decal uses a durable, non-skid textured vinyl that's rated for both indoor and outdoor applications. Thanks to their low-tack adhesive, these repositionable coronavirus floor markers leave no residue behind when removed and reapplied elsewhere. Use these stickers on smooth indoor flooring like tile, laminate, or wood; low-pile carpeting; and even outdoor surfaces like concrete or asphalt sidewalks!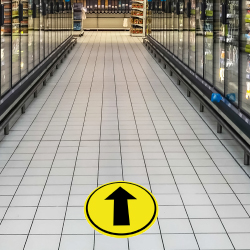 How can these coronavirus floor markers be used to enforce social distancing?
Rule and guideline reminders — With graphics that state "Please Stay 6ft. Apart," your safety expectations are clear. Sometimes, all that's necessary is a gentle reminder that social distancing is in effect. These adhesive decals help customers keep minimum spacing in mind as they navigate your business.
Safe position indicators — Show customers exactly where they should stand when waiting for service with these coronavirus floor markers. When positioned six feet apart, these decals can be a powerful tool for enforcing social distancing in areas where people typically congregate. Clear up any confusion with these vibrant, unambiguous guides.
Directional guidance — Especially in tight spaces like grocery stores, keeping everyone moving the same way can prevent unnecessary contact. Utilize one-way signage, simple arrow iconography, and bold "STOP - WRONG WAY" messaging to guide patrons through your aisles in the right direction.
Alternate pickup method signage — Sometimes the best way to keep people apart is to prevent them from entering your building at all. Using stickers on your sidewalk or in the parking lot, telling patrons to stay in their cars can be a great way to transition to a curbside pickup model.
Social distancing signage is just one part of a comprehensive reopening strategy. Protecting employees in face-to-face transactions should be a top priority in any industry. Outfit your registers and customer service desk with acrylic splash guards in countertop or hanging styles. Many of these safety barriers feature cutaways for passing cash, cards and receipts, while blocking aerosolized particles between employees and guests. Check out our full selection of COVID-19 business supplies to get your establishment back up and running in no time!