Curb Service Supplies for Restaurants Offering Pickup and Takeout Orders
---
Curb and Roadside Supplies for Restaurant Pickup Service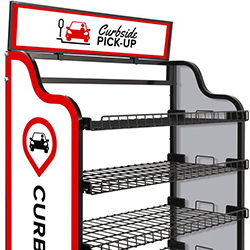 Want to feature takeout orders in a way that customers will easily find them? These curb service supplies include prominent curbside signage and pickup shelving that features high visibility messaging. This is a great way to get patrons' attention when they pull up in a car or walk in from the sidewalk. Curb service supplies are made for quick transactions, whether it's directing delivery drivers to pick up locations or serving meals to customers. The displays' bright colors and clear messaging reduces confusion and keeps business moving. Choose curb service supplies to keep up with demand for more to-go orders and meal delivery services. We offer bollard covers, sidewalk signs, and pick up racks with a variety of messages to facilitate the way you serve your clients.
​
What type of messaging is featured on these curb service supplies?
Curbside / Mobile Order Pickup
Remain in Your Car, Call When You Arrive
Please Wait in Your Car, Someone Will Assist You Shortly
We're Still Here. Visit Us Online. Anytime.
How can restaurants best use these takeout service supplies? If you take orders online, a display rack is a great way to display patrons' meals for easy pick up. When the customer has already paid, they can just grab their food and go. When it comes to serving people at their car, our sidewalk signage will direct them to contact you for assistance. Alternatively, it can make it much easier for delivery app drivers to find their pickup spot. Direct vehicle traffic around your establishment with our sidewalk signs that direct cars to parking spaces or feature your custom signage.