Reopening Supplies for Business Help Protect Customers & Staff
---
Hygienic & Protective Supplies for Reopening Business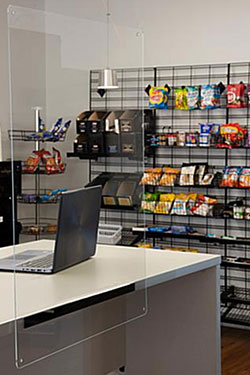 How can companies safely return to operation after emergency shutdowns in response to the Covid-19 virus pandemic? Our reopening supplies for business are designed to help companies ensure compliance with safety plans and strategies. Most states have provided instructions for how to minimize risk as workplaces return to full operating. We've taken the stress out of figuring out all the "How Do I" questions by providing products designed to address specific areas of pandemic response.
Our commercial-quality reopening supplies for business, featuring a wide selection of items to promote both hygienic and protective practices, allow you to quickly and economically implement policies while clearly communicating them to both workers and customers. From simple PPE dispensers and floor markers to pre-printed signage and protective sneeze shields, we can assist companies across all sectors with implementing their response strategies. Our wide selection of reopening supplies for business can help take care of basics, allowing owners and managers to focus on creating a safe environment for employees and customers.
What products can help companies safely reopen?
Clear, high visibility signs that address limiting personal contact are key. Reopening supplies for business that clearly communicate new rules or procedures to both staff and customers can help reduce physical interactions without causing additional stress. Covid awareness signage can be posted in every area, from outdoor signs directing customer flow to indoor counter or floor signs explaining new rules of operation.
Pre-printed table and floor decals are simple, easy to use supplies that help reopening businesses institute and maintain safe social distancing protocols for customers. While particularly useful for the food service and restaurant sector, these impossible to miss physical distance markers are a great tool for any operation that has a lobby, waiting, or reception area where people gather in groups.
Newly-instituted hygiene protocols for many sectors require offering access to safety supplies as businesses reopen. Countertop, wall, and free standing hand sanitizer dispensers ensure that customers and staff alike can protect themselves. Acrylic PPE dispensers make it easy to stock and refill protective equipment in showrooms, retail environments, offices, as well as open spaces such as manufacturing spaces or distribution centers.
Physical safety barriers such as sneeze shields and cashier guards help protect workers in every area. Acrylic cubicle extenders are an economical way of distancing and protecting office employees, while larger, full-size portable plastic screens can be used in distribution or curbside service areas.
Changing workplace procedures require clear communication strategies as well as a wide selection of hygienic and protective supplies for businesses as they return to normal operation. With many states instituting multi-phase plans, it's paramount that companies keep not only customers but also their employees informed every step of the way as policies and procedures change. High visibility signage, removable floor and table markers, and portable shields all allow businesses to adapt their coronavirus response quickly in a changing environment. In addition, multi-phase plans often require different policies for different workplace sectors. Our varied selection of reopening supplies includes both sector-specific accessories as well as general fixtures that adapt easily to different business models and industries.
What are industry-specific business supplies needed for reopening?
Food Service & Restaurants: Curbside pickup supplies, outdoor service signage and accessories, distancing markers, table markers, counter/table shields
Retail: Sneeze guards, signage, distancing & directional markers, PPE access
Office operations: Distancing markers & signage, cubicle/desk shields, PPE availability
Hair salons & Barbershops: Distancing markers, counter/station shields, PPE availability, full-size screens/shields
Construction: Outdoor banners, sidewalk signs, PPE availability
Manufacturing: Distancing markers, PPE access, signage, full-size screens/shields
Pandemic response supplies and accessories are an important element to ensure a safe return to work as businesses reopen. StoreFixture's curated selection of hygienic and protective fixtures and signage, in addition to our wide variety of everyday fixtures for retail and commercial operations and promotion, is designed to help companies in any industry implement and communicate changing policies and procedures while reopening. Protecting workers and customers alike can help ensure that reopening is just the first step to economic recovery. So shop our selection of accessories and fixtures that will help with safe operating, put up that outdoor Open flag, and let the world know you're back in business!