Industrial Pipe Store Displays Add Rustic, Vintage Style
---
Racks & Tables Made with Pipe Fittings are The Popular Choice!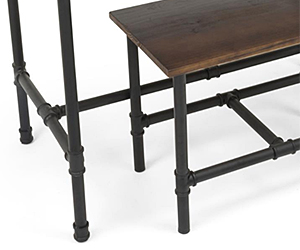 Not all merchandising fixtures are created equal. Our industrial pipe store displays feature the design and style desired by discriminating retailers. Intended for trendier shops, boutiques, and lofts, these urban-inspired fixtures are tough to keep in stock! The industrial pipe store displays pair cast metal fittings with the beauty of natural wood. It makes an unbeatable combination. Worlds away from the clinical, detached white interiors of some establishments, the pipeline-style is all about rustic comfort. They are constructed from rugged materials, yet lend themselves well to modular adaptation. Take the time to fully explore each pipe store display we offer, from rolling floor stands to extendable wall-mounted systems. Outfitting your place of business with these on trend racks and fixtures will give your customers a fabulous shopping experience!
What can these fashionable pipeline-style fixtures do for you?
Industrial pipe store displays are built to last. Piping and accompanying fittings like elbows and tees thread together like regular plumbing. Exposing, rather than hiding the parts is what gives these store displays their trademark look. All fittings come with durable black powder-coated finishes that further enhance the wood shelving and tabletops.
Clothing racks are available in free-standing units or with rollable casters. Floor stands let the customer encircle your merchandise. This not only provides shoppers with easy inspection of garments but it also improves flow on the sales floor by guiding them through your store. Open, easy-going layouts invite customers to browse! Rolling models come with either regular casters or vintage industrial wheels. These feature flat tread, open-spoked designs reminiscent of traditional warehouse carts. An iconic look!
Wall mounted outriggers offer great expansion possibilities. Initially, this framework mounts to walls via the pipe flanges. From there, various add-ons and accessories can be employed. Buy height-adjustable hanging bars, faceouts, and shelf options to further customize the fixture to your personal specifications. If you want to run multiple outriggers along a long wall, their interconnecting, modular design provides endless configurations.
Merchandise tables are like "open" shelves. Situated near store entrances, they give retailers the opportunity to showcase new arrivals or push items on sale. In addition to displaying folded and stacked clothing, industrial and modern retail nesting tables make excellent platforms for highlighting smaller offerings such as handbags, jewelry, gifts, and much more. These counters can also contribute to the store's overall decor by including decorations and centerpieces. Low rolling carts further enhance the "vintage" aesthetic. They look especially cool when paired with a table or two.
Light and dark wood shelves and tabletops pair very well with the black fittings. Fabricated from pine, the softwood adds warmth to the industrial style of the piping. Choose unstained, clear-coated tabletops or opt for the darker brown stain. Both look great! For the buyer, however, it just comes down to personal preference.
Many people have tried to make their own pipeline furnishings. There are two reasons why you should buy from us. One, we've done the legwork of packaging full configurations, taking the guesswork out of designing and specifying parts. Two, the one thing you will NOT get by doing it yourself is the black powder-coating. Crucial to the vintage aesthetic, black is essential! The durable, baked-on coating also stands up to use over the years better than any other type of applied finish. With affordable pricing and quality workmanship, our pipeline-style fixtures make it easy for retailers to achieve the rustic, urban look — for less!