Countertop Beverage Organizers for Storage and Dispensing
---
Countertop Beverage Organizers Store Cups, Lids, and Much More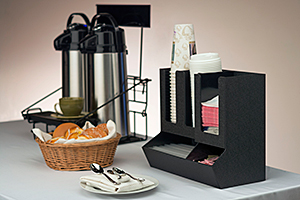 Which storage dispensers provide neatness and organization at self serve drink stations? These countertop beverage organizers are professional fixtures designed for coffee bars and other setups commonly seen at hospitality functions. With their ability to store cups, lids, and sweeteners, the holders can also dispense condiments, napkins, and straws. Our countertop beverage organizers are manufactured in two types of materials: steel wire frame and ABS plastic. Both styles provide excellent storage capacity for a number of diverse items within a small footprint, an important consideration when table or counter space is limited.
What types of self serve drink supplies are offered?
The countertop beverage organizers fabricated from thick steel wire are primarily used to hold coffee airpots or cups and lids. The stands designed for hot coffee dispensing support up to three airpots each with convenient cup/drip trays. Racks that store cups and lids dispense their items using spring-loaded action for easy grab 'n' go service.
Outfitting your drink station with ABS plastic storage holders offer a wider range of uses. This type of plastic is very tough and stands up to repeated use, providing years of service. The surface also features a textured finish that hides fingerprints. Dispensing coffee cup sleeves, condiments, K-cups, and much more, these self-serve supplies display well together thanks to their shared plastic construction. If using a combination of many different dispensers, the overall presentation will still look organized and professional.
Whether your place of business is a small coffee house, large hotel, or office kitchen, these drink accessories come together to provide a welcoming setup for patrons, guests, and employees alike. Since these locations are for public use, keeping the stations neat and orderly is paramount. Most dispensers come with tiered designs that hold three times the amount of smalls while occupying a small footprint.