Hot Coffee Dispensers & Insulated Creamers for Self Service
Sorry, nothing is currently available here. More may be back in stock soon! For more details or help finding alternatives please contact us via phone or live chat during operating hours.
---
Use These Hot Coffee Dispensers & Insulated Creamers at Drink Stations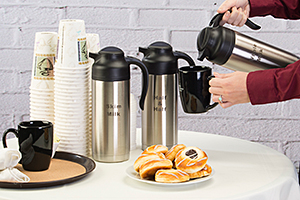 Keeping your beverages at the right temperature for self serve customers requires the use of two different types of jugs or pitchers. Hot coffee dispensers feature pump levers or spring-loaded handles that allow people to pour a cup, while insulated creamers provide the dairy of their choice in thermal jugs with easy pour lids. All beverage containers offer stainless steel construction in a number of sizes ranging from 1 liter to 3 gallons. Excellent choices for cafes, hotels, and catered events, these coffee dispensers and insulated creamers offer affordable beverage service for your patrons and guests.
What are the main differences between these stainless steel beverage pitchers?
Hot coffee dispensers designed to keep drinks hot do so via the insulated liner. The large banquet-style 3 gallon containers (storing over 40 cups) utilize sterno fuel to maintain heat. The spring lever works with gravity to pour the coffee and it does a good job of minimizing drips and spills. Airpots dispense coffee with a pump-action handle that uses pressure to force the liquid up and out. Since there is no external heating source, pre-heating the airpot with hot water before adding the brewed coffee is recommended. Airpots are lightweight and quite portable, making them good choices for small groups or parties.
Insulated creamers also make use of thermal stainless steel liners but instead help to keep chilled dairy products cold. We sell an assortment of carafes and jugs that come with labels for instant recognition, an important consideration since there may be as many as three of the same type container (milk, skim milk, half & half) sitting at a drink station. All the customer needs to do is unscrew the insulated lid a quarter turn in order to pour from the pitcher.
Also available are more traditional-looking pitchers in plastic or stainless steel that are designed for table service. Waiters and waitresses carry these jugs to refill coffee cups and mugs. The standard of the industry, the orange pitcher which designates decaf, helps differentiate between regular coffee at a glance.