Wire Display Shelves offer Easy Access to Retail Merchandising Displays
---
Wire Racks & Shelves for Retail Merchandise, Bakery Items & Specialty Displays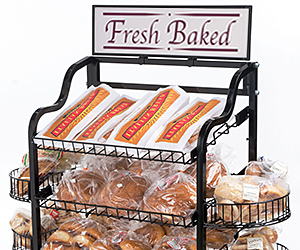 What is the go-to store fixture for displaying a large amount of items that can be moved easily? These wire display shelves, in both floor and countertop models, provide retailers an easy way to point attention to specialty merchandising areas. Lightweight enough to roll or carry to that perfect location, these metal racks help push freshly baked goods or seasonal merchandise to the forefront inside any store. Our wire display shelves are manufactured from steel rods and tubes with neutral finishes that complement any environment. Many call these "bakers racks" but they can be used for lots of other merchandising tasks.
What kinds of metal retail shelving do we have to offer?
Wire display shelves for counters feature tiered designs ranging from two to five levels. These stands are perfect for smaller items and impulse buys, which is why they are often found at or near the cash register.
Floor displays without casters are more permanent fixtures, although they can still be moved easily when empty. Bottle racks are just one specialized use, but these models also do great in candy stores and gift shops.
Racks with casters comprise the most models in this category and are very popular with customers. Designed to store bagged baked goods, the stands feature tiltable shelves for easier access to the items. Some styles offer optional side baskets that add even more real estate to the store fixture.
Rolling metal racks offer much convenience to the maker of baked goods. They can be stocked up right at the source and simply wheeled out to the floor. Locking casters make sure the rack stays put. The shelves, stacked four to six levels high, can accommodate a large amount of baked items including loaves, rolls, and baguettes. Each shelf can be displayed flat or tilted. Most come with a "Fresh Baked" printed header that slides into the channel located at the top. However, a few models offer custom printed headers, to personalize your bakery or business in any way you wish.