Retail Display Tables in Tiered and Pedestal Styles
---
Retail Display Tables for Strategic Product Placement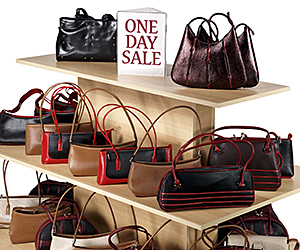 What type of shop fixture brings your merchandise more out in the open? Retail display tables are excellent choices for spotlighting products or highlighting a singular item. Outfitting a store requires many different kinds of fixtures, from wall mounted slatwall, aisles filled with gondola shelving, and locking showcases with cash wraps. However within any stores' display hierarchy, the space occupying center forefront is prime real estate. This is where to utilize these retail display tables in order to attract customer attention. Whether your business is a standalone store or one of many inside a mall, applying some form of visual merchandising right at the entrance is a sure-fire way to pique the interest of shoppers. We sell two basic types of retail display tables: tiered or pedestal. The two styles offer distinct differences when it comes to applying them inside your overall layout.
What are these visual merchandising fixtures designed for?
The tiered retail display tables are constructed from melamine, which is a particle board substrate with a thin scratch-resistant coating available in black or hard rock maple finishes. Boasting three levels of product display, these wood tables showcase a lot of merchandise in very little space. Their open design lets shoppers encircle the fixture as they weave through your floor plan.
Display pedestals are made to be lightweight for portability and ease of use. The body is constructed from corrugated cardboard and features an MDF wood top cap. Pedestals provide singular attention to a specific item worthy of highlighting. Place one to highlight a glass vase or use them simply as decoration, displaying a plant. Elevating an object with one of these store fixtures calls for the viewer's attention.
Decorating with multiple pedestals is another way to merchandise your products, and we sell them individually in three heights and diameters with black or white finishes. Or you can choose to purchase one of our sets which already include three units of differing heights. The tiered tables are available in square, rectangular, or oval configurations. These store fixtures are perfect for displaying sale items such as clothing, jewelry, and other accessories you wish to move in order to make room for new stock. Prop a sale sign frame on the top tier to allow for quick recognition, and watch as your merchandising efforts pay off when they begin selling!