Food Displays and Cases for Bulk Merchandising & Self Service
---
Retail Food Displays Store and Dispense Your Bulk Produce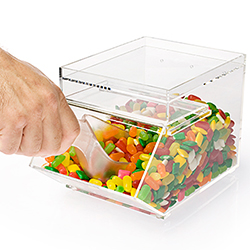 In any service-related industry, certain equipment is a must. These food displays are designed primarily for dispensing bulk produce and beverages in a retail or hospitality setting. The fixtures offer top-quality construction in a number of materials, including acrylic and polycarbonate plastic, thick steel wire, and hand-woven wicker. Most of our food displays are for table or countertop applications, while some of the bulk dispensers can be wall mounted. Allowing customers to help themselves is a vital strategy when it comes to merchandising your products, and this is especially true for the retail and hospitality sectors.
What are the different kinds of store fixtures for dispensing bulk produce?
The food displays for storing candy get placed at convenient heights for the consumer. These candy bins (some come included with scoops) feature self-serve designs with front-open lids. Shoppers scoop out the amount of candy they want and, when done, weigh their bags for checkout. Most models are standalone fixtures, while others can be stacked on top of each other for more efficient use of space and a more impressive visual impact.
Bakery display cases feature multiple trays for separating the goods from sticking together. Most cabinets are rear-loading and therefore for employee access only. This keeps the cases cleaner and better organized then if left as a free-for-all to the general public.
Countertop trays and baskets are the mainstay of convenience stores, hotel continental breakfasts, and restaurants. We offer wire frame racks and stands as well as wicker baskets (and combinations of the two). The racks are excellent choices for placement at retail point-of-purchase locations for enticing impulse buys. Offer hotel guests an assortment of breakfast cereals, fruits, and danishes, while cafes and restaurants traditionally serve their bread rolls in rustic wicker baskets.
Gravity dispensers are not only used in candy stores and hospitality rooms, but also in supermarkets and health food stores. Coffee beans are one of the main items poured into these dispensers for shoppers to grind their own. Large assortments of grains, nuts, cereals are all at the customers fingertips. The pull handles release the desired amount for weighing.
Beverage servers and organizers are the mainstays of hospitality functions and drink stations everywhere. Our selection of airpots and insulated carafes provide hot coffee service while cold drink dispensers handle juice and flavored water offerings. Countertop caddies and organizers provide a place for cups, lids, and sweeteners with efficient use of space, as well as airpot racks designed for self-serve customers and/or patrons.
The main purpose of these store fixtures is for storing, protecting, and dispensing food. Necessary for food establishments and service industries, these display merchandisers are professional products your customers will be pleased to see and use.