Acrylic Bins for Accessories, Food and Impulse Buys
---
Acrylic Bins - Countertop Holders for Clear Dispensing Boost Last-Minute Purchases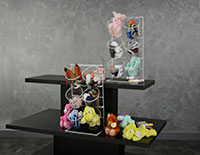 How do acrylic bins boost sales in retail stores and cafes? First, they are affordable and especially so when purchased in bulk. These holders are so cheap, a shop or restaurant owner can afford to place them at every point-of-sale area in a store to nudge buyers into making one more purchase. In addition to setting these tabletop holders up at checkout counters, they are great self-service dispensers for use in office cafeterias, break rooms and cafes. Line them up side-by-side at a coffee counter so visitors can scoop out the food they want themselves. Stack clear containers one on top of another in smaller stores, or to create visual interest in a hotel convention hall. The contents of clear dispensing holders are visible from every angle, so purchasable items in retail outlets don't get overlooked. Plus, if the countertop canisters are situated near a register, it's more likely a customer who is opening his or her wallet already will grab another item if it's conveniently within reach. Impulse buys over the course of a day, week, month, or year can push shop owners toward sales goals faster. There is no more affordable, effective fixture available that moves products this quickly. In addition to the plastic see-through variety, other open-shelf options in lightweight, unfinished birch wood or melamine laminate finished in neutral aspen are available to add character to certain types of stores.
Always present visitors with opportunities to add inexpensive items to their cart by placing them subtly in clear containers or in easy-access open trays at checkout stations so the contents are 100 percent visible and super enticing. Fill bins with colorful trinkets like keychains and hair clips, markers and pencils, cosmetics, lip glass, nail polish, bath beads, and baubles. These products are great for offices, where they are typically used to dispense K-cups, tea bags, packets of sugars, plastic cutlery, straws, and creamers that employees can use to fix their drinks they way they like. (Reducing the need for staff is also a plus for businesses watching their budget.) These holders are perfect for candy stores, coffee shops, restaurants, cafeterias, and office kitchens for keeping foods fresh. Fill them with bagels, muffins, pastries, and cereals. The stacked units are preferable to trays for saving counter space. These acrylic bins, also known as clear containers, are great for souvenir and gift shops as well as higher end stores, cafes, and gourmet shops for items that are difficult to hang. Customers have no trouble visually accessing the contents, which is always an incentive to make a purchase. At home, jar-style and hinged lid fixtures can be used to store brillo pads, dog treats, or healthy kid snacks.
What are the specific benefits of clear containers for the dispensing of food or gift store accessories?
Acrylic bins with hinged lid can be opened and contents scooped out without the door snapping shut.
Whether the top screws on tightly, or the lid lifts up and then is shut to form a tight seal, these supplies keep foods fresh and bacteria-free, so it won't go stale.
Stackable bins with connectors conserves counter space in small shops and cafes, not to mention they take up space vertically, which draws the eye quicker to contents from afar.
Clear dispensing means items can be seen and won't be missed - no matter where a customer is in the room, if colorful items are placed in see-through plastic they are bound to catch the eye.
Self service dispensing holders not only save money on staff by letting customers serve themselves, but they are perfect for cereal, bagels, and pastries, as well as condiments and coffee accessories.
There is no cheaper or more effective way to move products like these bins for bulk storage and dispensing, and they are a great way to improve the look of any venue be it retail store or eaterie. This organizer with clear dispensing comes in myriad styles designed with high visibility in mind - plus they have lots of great details. Acrylic display cases with rubber feet keep some units from scratching countertops. Unique configurations with more than one compartment for grouping related but different products are available in addition to simple containers that hold one class of items. Some of these have removable compartments to display larger items, or leave the compartments in to store and dispense small items.
Designs run the gamut from classic round to hexagonal, with an array of lid styles including curved or beveled tops, swing-open or hinged doors with magnetic lid, screw tops, and more - look for details like molded hand grips that make them easier to hold. Display cases with rubber feet keep some units from scratching countertops, for example. Creating a convenient way for customers to grab small items at checkout and toss them into their carts is a brilliant way to boost your daily sales - and visitors love buying items at low prices to satisfy their last-minute shopping urges.