Dress Forms Feature Cushioned Fabric Torsos
---
Mannequin Dress Forms and Torso Models with Padded Fabric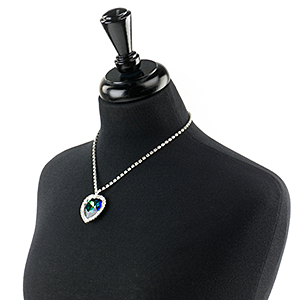 Need mannequin dress forms to spruce up your retail fashion store or professional sewing boutique? These adjustable clothing display dummies are perfect male and female mockups to use for the presentation of apparel. These mannequin dress forms come in natural or black coloring. Use these tailor presentation tools as a front window exhibit or place them throughout your location to draw customers to certain apparel. The mannequin dress forms, like clothing display dummies, are affordable and durable to withstand constant use.
What are some of the notable features of these clothing display dummies?
The mannequin dress forms come with a hard plastic core covered with fabric.
These portable clothing display dummies are lightweight enough to be easily moved around a space to change up apparel presentations.
The mannequin dress figures are all height-adjustable on their poles or can be removed from their pedestals to be used on tables or tiers if their bases don't shrink down that low
There are many benefits to using a clothes model that is just a torso form. The biggest by far is the lack of distractions to the apparel that is being presented. These dress forms don't have faces or poses for customers to focus on. They simply present clothing to customers and that is where the focus should really be anyway. Many of these forms will also save professional dressmakers and tailors a bit of money because they are about half the price of a life-like or abstract clothes model. These figures are also less of a hassle because they don't have arms, legs, or even heads making it that much easier to frequently remove and replace apparel with sewing or for display. Also, a majority of these dress forms are adjustable in their heights,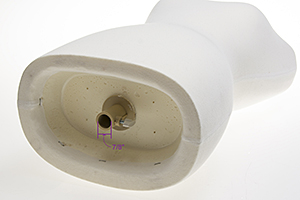 which is something that full body shapes just aren't able to do.
The body shapes are available in male and female forms so all styles of apparel can be presented in a retail store. The torsos are made of a plastic, fiberglass core and then covered in a jersey type fabric in one of a few styles: natural or black. Some of these padded shapes are even able to accept pins to be shown with accessories. All of these fabric-covered forms are able to sit on poles that can adjust their height and all but one comes with a wooden base and legs that match the neck finial or cap in shades of brown or black. The torso without a pole comes a striking metal neck cap. Professional dressmakers or tailors may also want to work with these sewing models removed from their bases, which they all will do easily.
Where might these clothes models be used for display purposes?
Any fashion store could find these forms useful for placement throughout their store or even at their cash wrap.
Business locations of tailors or dressmakers could find these mannequin dress figures a great selling point for their personal designs.
Places that do alterations, like dry cleaners or retail shops, might want to use these figures to sell that part of the business or to show customers finished garments.
No matter which of these mannequin dress figures you choose for your store, they will all help you to present a professional looking display in your front window. Of course, there are plenty of other places these dress forms can be used other than the ones that have been previously mentioned here. Museums that want to present period or famous clothing could use these padded or metal torsos to do so. Any school that has a fashion or costume design program would also find these adjustable male and female shapes very useful even if used on only as a place to fit current sewing mockups. Remember that all of these models figures are available in bulk and the prices go lower the more that you buy.