Abstract Mannequins with Simplified Faces Emphasize the Clothing
---
Abstract Mannequins for Sale in Monochromatic Colro Choices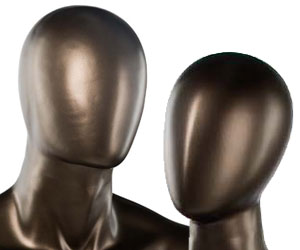 Are you looking for abstract mannequins to display apparel in your retail space? These male and female full body dummies are ideal as fashion store fixtures placed in a window or in the middle of your location. What really set these store display forms apart from others are their faceless appearance, gloss finish, and choice of colors. The abstract mannequins, called full body dummies, really cause customers to focus on the apparel that is on display and not the realistic features of the face because they are faceless. The gloss finish on these fashion forms draws customers in for a closer look without overpowering the clothing being presented. The abstract mannequins that are fashion display pieces come in colors that are neutral and will accommodate many color palettes. The reinforced plastic full body dummies are made of fiberglass giving them a long life, even when placed in fast-paced retail settings. Most of the male and female store fixtures have a height of 70" or more for easily seen exhibits throughout a store.
What colors and finishes are available on these full body dummies?
The abstract mannequins are sold in several hues and the majority of them in gloss finish.
These store displays come in basic black and white, but also have varying degrees of silver and bronze finishes too.
There are a few headless models that are sold with a matte finish and not gloss for a totally different look that is a bit more classic.
So why use a plastic fashion store display anyway? It's all about the presentation. Your apparel exhibit should be as accurate as possible and abstract models may even be to your advantage. Their figures will offer a true representation of what clothing will look like when worn, but their faceless appearance won't comment at all on the wardrobe that they are sporting. Comfortable or uncomfortable, it's all the same to them. Apparel that is simply hung on a rack or even if it is set apart on a slatwall, doesn't tell customers how they pieces will fill out when put on a real person and that is the true reason to use a male or female body form.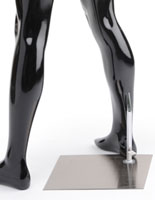 These models all present apparel accurately and do so with a bit of flair thanks to their special colors or gloss finish. These male and female figures all come with heel and calf rods, which offer many different options for presenting a complete look. Both versions of the leg base are designed as stabilizers and will keep the body form steady. The calf version will allow for the placement of shoes on the figure, whereas the heel style will need to footwear to be modified in able to be worn. Many poses are shown and all are able to wear a variety of apparel from underwear to formal gowns and tuxedos. There are a few headless varieties that have a matte white finish as opposed to a gloss one.
What are the benefits of having removable body parts on these abstract models?
The biggest benefit of having hands, arms, torsos, and usually a leg, that detaches is the time saving aspect.
It is much easier to dress a mannequin in pants or jeans when there is a removable leg, than it is to try and stretch those pants over legs that might be a distance apart.
Also, removable hands make for quicker apparel changes because they can be taken off to slip a long-sleeved shirt over an arm and then replaced once the sleeve is in place.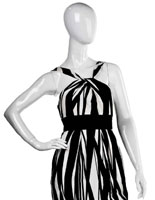 These abstract models make the most sense when placed in clothing stores. Due to their faceless and more contemporary appearance, stores that cater to a younger crowd or those that offer more modern apparel, no matter the age, are where these forms can really shine. These models are perfect as a window display because their appearance is so eye-catching. Put them in places where all can see to drum up more walk-in traffic from those passing by your store. Use male and female figures together throughout a space to show off different fashion choices. Trendy boutiques could use one of these models in the store window to present some of the more exotic or outrageous fashions that are available.
These faceless store fixtures for clothing sold at Mannequins2Go.com do ship in pieces and will need some light assembly when received. We do this to keep shipping costs down for our customers. Detachable body parts are one of the big features of these models as well as their faceless look. Use these mannequins to draw customers into your space and increase sales. The faces on these body forms won't detract at all from the featured clothing!