Art Display Systems for Hanging Artwork, Posters, Graphics or Merchandise
---
Wire Mesh Exhibit Display Systems for Graphics - 37.25" x 33.25" Panels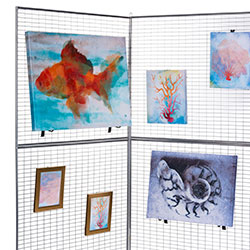 Have you noticed that art display systems also make great portable retail merchandising fixtures? These versatile metal mesh fixtures are available in a wide variety of configurations to meet any need. Our modular art display systems are based on 37.25" x 33" silver finish iron wire panels with a sturdy 2" x 1" grid pattern. Designed for use with clip-on hooks or hangers, these stylish fixtures can be used in single or double-height arrangements. Sturdy base supports allow custom configurations in a variety of shapes for both countertop or freestanding use. These art display systems, also known as wire mesh graphics panels, allow artists, retailers, and commercial businesses to easily create high visibility merchandising areas that attract customer and visitor attention even in crowded public environments. StoreFixture.com offers these double-sided standing panels in a number of pre-designed sets that are ideal for showcasing pictures, frames, and canvases, as well as a variety of retail merchandise.
What configurations are available for wire mesh graphics display panels?
Art display systems comprise three main parts: wire grid panels, support bases, and retainer clips. The frames slide into the base tubes, while the panels are held in place by clips placed at the corners and support pins, creating.
Single panels are ideal for small spaces, and can be used as countertop or freestanding displays.
V-shape graphics display panels feature two arms and a central support. This type of fixture allows customers to freely access merchandise on both sides, while maximizing space for artists or retailers.
U-shape configurations create a 3-sided space within a space by creating three freestanding walls. The double-sided configuration is ideal for trade shows, promotional fairs or events, as it offers a great way to attract traffic while offering a more protected enclosed area for higher ticket items or point of sale checkout counters.
Y-shaped display panels, X-shape grids, square mesh configurations and triangular artwork panel stands are freestanding portable merchandisers that block out 360 degrees of space for customers to browse. This type of arrangement is a perfect way to create a temporary advertising feature in booths, showrooms, or open spaces.
Custom configurations are easily created using mesh grid displays. Single, double, triple, and quadruple base supports can be used with any number of single panels to create against the wall, freestanding fixtures, or even as space dividers and walls.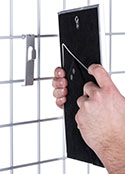 Pre-made and custom hanging configurations are designed to maximize visibility within available space limitations. When used with standard gridwall hanging accessories, these fixtures can accommodate any artwork or merchandise. Hooks, hanger, and clips allow all kinds for picture frames, garments, and shelving to be securely mounted on these wire mesh panels. All hooks offered are compatible with these art panels, and are easily attached and detached as needed to accommodate artist and retailer inventory.