Pegboard Displays | Racks with Black, White or Chrome Hooks
---
Displays with Pegboard Panels Hold Merchandise with Strong Steel Hooks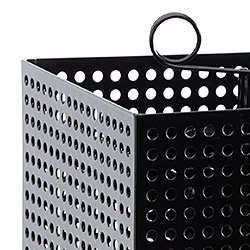 Need a versatile rack that's easy to set up and customize? These pegboard displays feature an assortment of accessory choices for creating useful merchandisers. Fixtures like these are effective in any retail environment for showcasing snacks, makeup, magnets, toys and impulse items. With a variety of hook options, these pegboard displays can tailor to any merchandising need. Each rotating holder has (4) perforated steel sides that can accommodate magnets in addition to a large number of hangers. In addition, each pegboard display, or spinner rack, features a rotating design that helps maximize the amount of goods stored in one place. Sold as floor or countertop stands, these models measure either 68" or 28.3" tall respectively. These rotating kiosks and their compatible pegs come in a variety of setups to satisfy any storeowner.
What options are available with these spinner racks and their hangers?
This type of pegboard display is available in either a black or white finish. These neutral color choices match any retail environment and will complement any merchandise.
Hooks also feature a number of choices to meet any need. These accessories are available in different sizes including 4", 6", 8", 10" and 12" for holding large quantities of goods. Additionally, hangers come in three finishes: modern black, neutral white and sleek chrome.
Displays can come with a set of (60) hooks included for immediate setup. This is a convenient option for customers that require a simple retail stand that can be installed with ease. Accessories included with these fixtures measure 4" for creating compact merchandisers.
These displays, as previously mentioned, offer (2) distinct layouts. Countertop holders measure 28.3" tall, and have 9.1" x 24" panels and a circular base for remaining stable even in high traffic environments. Alternatively, each 68" floor stand features an X-shaped support with four levelers for accommodating uneven flooring. These fixtures have larger panels measuring 9.1" x 48" for holding more goods.
While spinners come in an assortment of styles, all share a (4)-sided steel construction that will last for years. Each unit also has magnet receptive panels for displaying any number of impulse items. Compatible hooks are made of strong steel wire that can support a considerable weight without bending. In addition, pegs can be mixed and matched to create interesting showcases. Included on top of each model is a simple coil sign holder for custom-made prints and cards. Signage with messaging like "Sale!", "Sunglasses" and "25% Off" will inform customers and help them find merchandise. Countertop and floor stands like these are ideal for a number of retail outlets including gift shops, grocery stores, corner markets and pharmacies. With their pegs, these kiosks can showcase jewelry, batteries, multi-tools, candy bars, key chains and beauty accessories. When placed near cash registers, these merchandisers will increase impulse purchases in any setting. Order online and get point of purchase solutions like these with wholesale pricing and quick delivery from StoreFixture.com!