Nail Polish Racks | Salon Organizer for Beauty Products
---
Nail Polish Racks - Professional Organizers for Salons & Beauty Schools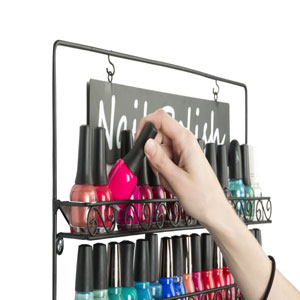 Nail polish racks are the perfect addition to any salon or beauty school location! Because organization and tidiness is of utmost important to any business, having small items like nail polish bottles strewn about is not only an eye-sore but a headache! These nail polish racks, also known as polish display stands, easily stack and organize multiple bottles of color. Place them on tables, counters or booths to create an eye-grabbing and neat display for your employees and your customers. Sort by color or brand easily with these displays. Choose from wire or acrylic models based on the theme or look of your salon. The shelved tiers make it easy to browse and choose from the large color selection available as well as to put bottles back in their spot for later use. We carry trays as well as stands depending on your needs.
Where can these polish display stands be used?
These nail polish racks can be used in nail salons or spa settings to display available colors and brands.
The organizers can also be used in supply stores on shelves or counters.
Because the racks are portable, bring them to trade shows or expos to demonstrate new products or services.
Use them at home to neatly store or pack your personal nail polish collection!
Aside from displaying beauty products, these risers and trays can be used for any small item in a shop or boutique setting! Simply place jewelry, accessories, makeup or other beauty products in the wire and acrylic racks for instant organization. Place near cash registers or check-out counters to hold point-of-sale items and trinkets. The durable and lightweight design allows you to move the stands to any surface with little hassle. Place them on the counter or in the window for an attention-grabbing display. Choose from models with multiple tiers or those that lay flat on a counter or table. Completely customize your display by ordering a unit with a built-in sign!
Order at wholesale prices or in bulk to outfit your salon, spa or store with bottle organizers. Use them in back closets or storage rooms as well to keep items tidy and ready for use. Because of their simple but durable design, these bottle organizers match any upscale salon or spa or can be dressed down for use at home. Order online today and receive same-day shipping on your order of nail polish displays when placed before 2 P.M. EST!