Window Sign Holders for Commercial Storefronts
---
Window Sign Holders - Signage w/ Suction Mounts on Flat Surfaces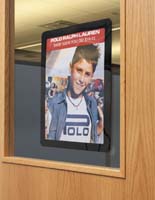 Does your shop use window sign holders for advertising specials, or announcing hours of operations? These affordable and versatile marketing tools are not only cheap (purchase in bulk for even lower prices!) but they are effective at disseminating information. Your customers need to know when the shop opens and closes, what kinds of goods are available within, if there are specials, when the shop opens, closes, or closes down temporarily, and any other information shoppers need to do business with you! These window sign holders, also known as signage clamps, are constructed of affordable, clear acrylic. Affix these merchandising tools to glass surfaces with suction cups, ensuring retail property never gets damaged. These plastic accessories for marketing are easy to use, and move around a store when needed. Need temporary signage posted at your home or retail storefront? Try getting the message across with temporary acrylic poster mounts such as these. The mammoth selection of merchandise, and low pricepoints are extremely attractive to busy retailers who shop our site. Same-day shipping is an option for most in stock items that get affixed to glass with suction cups, and so that's more good news for marketers!
What can these glass door card mounts be used for?
Window sign holders have myriad uses in a retail setting for directing customers toward specially priced or new merchandise.
Open/closing times, hours of operation
Holiday sales & monthly special
Safety rules & regulations
Directional information such as "This Way" or "Today at 3"
This window sign mount looks simple, but there is a large assortment to choose from, which makes them super appealing. Not to mention the price, especially when bulk purchased! Displays for showrooms are effective ways to market with effective plastic signage. Inexpensive frames should be durable, and these are. Holders for signage is available in myriad sizes for any use, including menus! Frames with information suction cupped to a surface take up no valuable wall or floor space, so they are great for showrooms with a small footprint. Mount cards for people in these sign holders to learn about your merchandise and spend less time answering obvious questions! Most of these shop displays allow for posting graphics back-to-back, so customers are informed coming and going!
For more framing and holders for a showroom, and all manner of boutique, office, restaurant, and museum supplies, as well as residential fixtures, shop Storefixture.com for same-day shippable items with style, durability, priced to sell! Stocked orders can be sent out same-day if ordered by 2 p.m. EST during a week. Why is this company number#1 in America for residential and commercial equipment? Browse this online catalog and find out!