Changeable Sidewalk Signs | Black & Silver Frames with Plastic Letters
---
Outdoor Letter Boards - Signs with Headers, Heavy-Duty Springs or Water Bases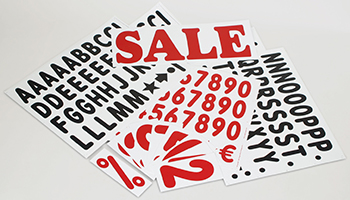 Is your restaurant or bar in need of an outdoor letter board to drive in more customer traffic to your space? These changeable signs come with panels that fit plastic letter sets included with purchase. The outdoor letter boards are able to have a custom message for patrons or passersby whenever desired because the wording is so easily changed. Maybe your establishment is set back from the curb or just isn't that memorable. Outdoor letter boards for menu specials can be placed by doors or further in front of your business in order to attract more people. Advertise which band is playing Saturday night or to make sure everyone knows about the huge sale that your business is having. The outdoor letter boards, like restaurant menu displays, can stay outside in light rain or wind, but unless made with springs or a water base, should be brought indoors when bad weather strikes.
What styles of changeable A-frames and sidewalk signs are available for purchase?
These outdoor letter boards are sold in several styles in this category, but are distinguished by those made for wind and those that aren't.
Plastic sandwich boards that fold up can be taken indoors when necessary. These styles come in white or black and some even have headers as an added advertising opportunity.
There are plenty of weather-resistant and wind-resistant styles to choose from. Bases that can be filled with sand or water add extra weight to allow the custom message display to stay outside in 30mph winds. Swinger bases and traditional water bases are both available.
Many types of businesses can use these outdoor letter displays. Restaurants and bars are able to use the panel and plastic letter sets to advertise drink or menu specials. These displays can also be used by florists, clothing shops, and other boutiques to showcase sales and other specials that might be going on inside the place of business. Mechanics, salons, and other service industry storefronts could use the outdoor letter displays to broadcast operating hours, specials, or pricing all in an effort to get more people into the business. The signs with water bases are especially great for those businesses that thrive in the outdoors or near water, like boat rentals, because they do not tip over easily in wind. No matter how these message boards are used, they will surely bring in more traffic to your space.