iPad Wall Mounts for High Visibility Interactive Tablet Displays
---
iPad Wall Mounts - Information & Sales Processing Tablet Docks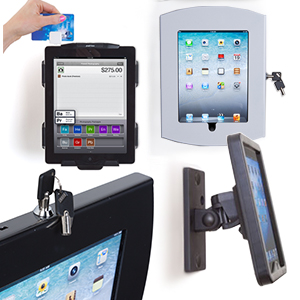 What makes iPad wall mounts so beneficial to businesses? These vertically-mounted tablet displays are a superior choice for commercial and retail use. In-store iPad wall mounts help boost sales and customer satisfaction in such varied environments as retail establishments, concourses and lobbies, restaurants and institutions. Sturdy ABS plastic or steel enclosures allow these computer or tablet fixtures to withstand heavy, daily use. Commercial-grade iPad wall mounts, also known as tablet mounting brackets, are also becoming more and more popular for home use, as well and can serve as everything from smart-house controller docks to kitchen media centers. However, this type of display fixture shines as a business accessory, due to its cost effective pricing, ease of use and accessibility, variety of available styles and ability to be customized to fit any environment.
Where can touch screen mounting brackets be used, and how?
IPad wall mounts make great retail accessories. These sleek brackets can be placed on any vertical surface, saving space on the sales floor but allowing customers easy access to the device. Retail stores place these docks on end caps or support columns with custom interactive programming to access information, inventory, store maps and more.
Touch screen mounting of handheld computers has revolutionized the hospitality industry. Restaurants and hotels alike use wall mount brackets for self-check in programming as well as well as to create customer service or information stations. Eye-height displays are also increasingly found in individual hotel rooms as replacements for call buttons, phones and environmental controls.
Museums, art galleries, libraries public concourses and schools use hallway docks as information and wayfinding kiosks. These economical bracket mounts provide self-guided location information and customized interactive content based on consumer requests.
Vertical tablet mounting is a cost-effective choice for businesses across all industries. From boosting store sales to engaging visitors to allowing customers to create their own custom merchandise or simply book their own services, these computer and tablet docks are a great fit that takes perfect, economical advantage of constantly evolving technology.