Write-On Labels | Several Sizes in Black or White
---
Blank Price Tags - Labels for Discounts on Items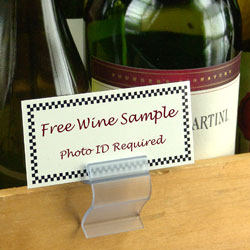 Looking for a way to use blank price tags in a harmonious way throughout your business? These merchandise labels can be purchased in bulk for the ability to employ them in any retail pricing situation. The blank price tags for stores are great ways to point customers in the direction of discounts or buy one get one free sales promotions. The retail supplies can be used to highlight brand name merchandise as opposed to generic offerings that might be close by. The blank price tags, like write-on labels, are available in black and white backgrounds for the ability to work with your interior décor no matter color what it is! Lean the store supply for pricing against a retail display on a checkout counter to entice customers into last minute purchases. The cheap labels, when placed in a holder, are easier to notice because they are also at a better height and angle for customer viewing. The pricing supply can be used for so many purposes that it only makes sense to purchase them in bulk!
What styles are available in these retail write-on labels
The blank price tags are sold in primarily two types: those without printed borders and those with decoration.
The black store supply is made of plastic and is designed to be used with liquid chalk or wet-erase markers. The tags are double-sided as well and are able to catch customers in multiple directions.
The blank price tickets with white backgrounds have several different border designs in a few colors. The write-on store supply is able to be used with both dry and wet erase markers and even permanent markings are possible if so desired. The store tags are also sold with rotating wheels to change pricing when needed.
These tickets can be used in many settings by many types of businesses to get discounts noticed by patrons. Tell customers about free promotional gifts upon entering or at checkout when the white or black pricing supply is used. The retail supplies can be used in grocery stores during taste tests to point out to customers the brand names of the selections. These tickets can be placed in display cases at grocery markets or bakeries to designate between different items in a deli or pastry case. Boutiques can use the tags as ways to show discounts on name brand merchandise or as sale displays throughout a store. The blank price tickets have many retail applications and when used with a stand or holder of some sort the possibilities are even greater. Both white and black styles are sold in many sizes and shapes so that you can find the perfect sale supply for your deli or specialty boutique!