Sign Clips - Retail Pricing & Information Signage Tag & Label Holders
---
Sign Clips - Plastic Displays & Write-On Kits for Stores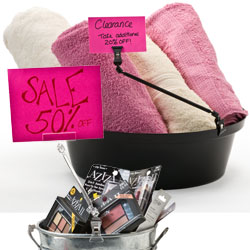 What are sign clips? These retail displays are designed to hold small signage with an alligator clip or label channel at the top and a pinch clasp at the bottom to hook onto a shelf or the edges of various buckets, bowls or baskets. The special sign clips may also be created to hook onto different types of displays like gridded holders that use round wire to create a presentation area. While some label holders may be able to clasp the rounded metal, it is best to use displays designed specifically for that purpose. The sign clips, such as signage channel attachments, are small enough to fasten onto a counter basket or be placed inside a display case. The small signage size ensures that your merchandise is clearly visible and not concealed by the label.
How easy are these channel and clasp displays to use in retail settings?
These sign clips are extremely simple to use because they feature no fuss label insertion and attachment.
Simply choose the style of holder that's appropriate and attach the sign clasp to the edge of your basket, bowl or on the end of a shelf.
These fasteners may already come with a wet erase board or retail pricing display. If that is the case write your message out and the holder is ready. If tags are not present, owners can design custom signage to place in the clips or channels.
These displays are really easy to use, but they are also highly affordable. No matter what type of special label holder you need, there is one present here for you at a great price! Many models are sold in bulk for the ability to use the same type of special display through your space.
These sign clasps are seen in countless retail situations to advertise special pricing, merchandise or just to grab customers' attention. The label holders are perfect for food displays in side cases and out. Use them to note what is in a particular dish or to denote an amazing price on lobster. The clips are great for bakery cases too for distinguishing between types of icing or cake or to label what fruit is in the turnovers. Signage where food is concerned is very important to prevent allergic reactions. Place the holders on buffets to label what has cheese, nuts, or what dishes are vegetarian. Use the displays on a shelf to point out items that are new or on sale. Because the label holders come in many different sizes and with the ability to rotate, they are great signage channels and clips for presentations that depend on height variations. Browse our retail clasps today to find the perfect display choices for your business.