Sign Holders - Countertop, Floor Standing & Price Clips
---
Sign Holders Help Draw Customers to Businesses & Improve Organization of Store Layouts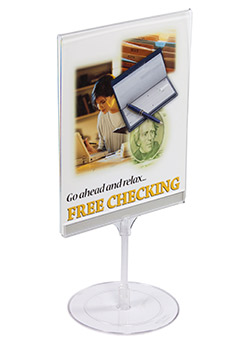 Sign holders can be any style of signage indispensible for application in a retail space. Retail signage, lobby directories, and countertop sign clips are all effective marketing tools for indoor or outdoor advertising. Store fixtures, such as retail signage, are necessary for application in any store. Retail signage permits you to draw the concentration of patrons, whether they are passing via your firm in a shopping mall or outdoors. Merchandising promotional events or in-store specials is a key way to attract client concentration. These signs are the perfect way to advertise such promotions.
The purpose of sign holders is to inform your patrons of any messages you would like to communicate. Signage fixtures can communicate whether your space is open or closed for business. Also advertise sales, clearances, or other up-and-coming events. Some sign holders are built to sit on a countertop, while others are window attachments meant to attract consumers on the outside to enter your facility. Sign clips are commonly used to mark prices on individual items. Clips affix to baskets railings and merchandise.
Outdoor signage is pivotal to attract additional customers. Banners and flags are a great way to advertise when a store is open, or give customers insight to what products are being sold with them having to enter the store. Outdoor letter boards allow you to convey a message to customers or display a menu that can be changed on the fly. Letter boards are offered with 100s of letters for displaying any message, menu, list or event!
Pricing displays make great labels and help guide customers towards low prices and new products. Small wet erase boards are easy to reuse and just with the market related pricing fluctuations. Clips attach easily to baskets and shelves to label products. The affordability and easy readjustments make these displays a must-have for retail stores. Other great displays for businesses include the open closed signs. Neon signs are visible from a distance and inform customers of whether you are open or closed. Write on business signs feature slots for hours and room to write messages like "Be back in 5!"
iPad stands and holders are also available in this category. Utilizing iPads as interactive kiosks and advertisements is a great way to draw in customers and promote special services and products. Create custom slideshows that allow customers to browse through information while they wait. Own a car dealership? Using an iPad floor stand can display information about vehicles, warranties and features as customers wait to be tended to by a salesperson.