Wood Display Racks in Decorative and Rustic Styles offer High Visibility
---
Wood Display Shelves and Racks Add Warmth to Retail Merchandising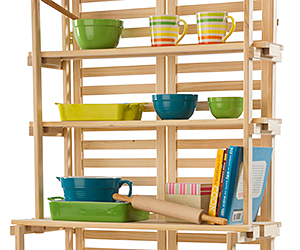 Interested in purchasing freestanding wood display racks for your retail store's floor or showroom? These multi-shelf fixtures come in all price ranges and offer solid wooden construction in a variety of styles and finish options. Natural wood display racks with open shelving provide a large amount of merchandising space as well as adding a traditional look with an element of warmth that attracts customers and visitors. Suitable for much more than simply specialty deparments, general or country stores, gift and culinary shops, and other artisanal establishments, these retail fixtures attract attention to the types of products they are designed to display. Our freestanding wood display racks range from open-style shelves for a wide variety of merchandise, to specialty shelving such as stands for wine bottles. Other merchandising stands such as old-time flower carts and rustic kiosks are ideal for creating feature elements in showrooms, offices, and even restaurants.
What do these wooden retail store fixtures have to offer?
Standard wood display racks that look like book shelves are the most utilitarian style. Assembly is very easy and some models even feature slotted egg-crate construction.
Slatted and folding A-frame shelving displays offer an elegant alternative to traditional fixtures. The horizontal shelf parts simply slide between the wooden slats to adjust the shelf height as desired.
Old-time push carts and kiosks add a vintage, country store feel to any environment. Use these rolling fixtures for highlighting seasonal items or simply for decorative display as a feature element.
Outfitting a store with these merchandise racks adds warmth to the visual presentation of sale items or samples. Vintage style can be used to complement the entire decor of a country store environment, or to provide attention grabbing rustic contrast in more commercial or retail businesses with a more modern style. Local artisanal products and other hand-made specialties are a complementary element that will attract attention on wooden shelving, next to the candies and gifts that make up many gift shops. This type of provincial merchandising stand is a great way for any restaurant, professional office, specialty department, or shop to insert a traditional element of style that will complement any environment.