Retail Nesting Tables and Product Display Shelving in Sets
---
Retail Nesting Tables for Clothing and Other Merchandise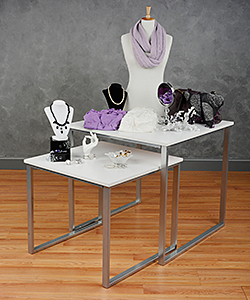 In addition to widely used store fixtures like wall racks and slatwall, what other types of shop fittings help you to increase sales? Retail nesting tables provide product display out in the open to lure shoppers. The extra surface area offers an alternative to hanging clothes on racks or from slatwall fixtures. Our retail nesting tables are available in several shapes and finishes to best match your interior decor. The shelving sets are perfect for creating stand-out displays in store windows too. One of their biggest features is their chameleon-like adaptability. Unlike rack fixtures that get mounted to the wall, these retail nesting tables get placed out on the sales floor, close to store entrances that present your wares in an appealing and enticing manner. Their multiple heights and sizes bring variety to any merchandise display. When the time comes for the next promotion, the tables can be moved around in numerous combinations to provide customers with something new to look at.
How can these store fixtures be used?
Apparel Stores - Retail nesting tables are perfect for spotlighting clothing, especially if they are on sale and need to move. Stacking folded clothes with a sale sign tells the shopper deals are meant to be had.
Gift Shops - These product displays are excellent choices for smaller items, including jewelry, glass sculptures, and souveniers.
Hospitality - Add tiered tables to lobbies or waiting rooms to help organize reading material for patrons.
Our tables are constructed from wood and steel. The long models with thick steel tubing are the most durable and they include plastic laminate tabletops in black or white. Use to display lots of folded clothing or other bulky items. The smaller sets (featuring square and round tops) are constructed from thinner steel framing and, due to their size, are best used displaying single items or objects that you would like to highlight. Our all-wood table sets feature softwood pine construction for adding a more rustic vibe to your store's interior. The two-table sets come with your choice of plain or painted legs in black or forest green.