Retail Shelving & Storage Displays for Merchandising and Sales
---

Shelving & Storage Merchandising Fixtures for Commercial & Retail Displays
How stores showcase their inventory can really make or break sales numbers. Using different styles of retail shelving and storage displays allows marketers to optimize product placement and increase customer visibility. Different styles help accomodate different needs. This collection of wholesale retail shelving and storage displays offers fixture styles to accomodate every retail environment ranging from gas stations to country stores. Materials include wire & metal, cardboard, and both faux and real wood. A varied mix gives store owners and managers the opportunity to utilize all available floor space. The more inventory that can be displayed without looking cluttered, the greater opportunity there is for sales.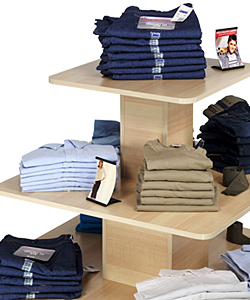 What kinds of shelving and storage is available?
Gondola Shelving - When a modular type of display rack is needed, commonly used in supermarkets and convenience stores. These store fixtures tend to be more permanent and difficult to move, but provide a vast amount of continuous storage space.
Display Tables - Tiered & nesting tables are popular amongst clothing stores. Showcase jeans or t-shirts in large quantities with the extra surface area.
Wooden Fixtures - Wood displays like barrels or carts provide that "old-fashioned, country store" feel. These bins provide storage space for point of sale items.
Metal Racks - Steel wire floor stands with shelving are available in classic "Bakers Racks" designs as well as other specialties including bottle displays and impulse-buy stands for countertops.
Dump Bins - These wire baskets are the ultimate bulk storage display. They're easy to set up and knock down. Most dump bins are also mobile, making it easy to move them to various sections of the store.
Looking for something a little more affordable? Temporary solutions like cardboard stands may be exactly what you're searching for. Cardboard dump bins offer multiple benefits: Affordability, simplicity & capacity. Cardboard bins hold just as much as the other displays we offer, except the price allows owners to throw them away when finished. Larger fixtures often create problems when there's a lack of storage space available. No need to break the bank to showcase some small trinkets being sold for low overhead. Cardboard pedestals are a great solution for trade shows and retail stores. The black and white finishes look professional but are available for a fraction of the cost.
StoreFixture.com aims to offer merchandisers, marketers and owners all the tools needed to properly display inventory. Mix and match the right units to give products added visibility. Utilize different materials and fixture styles so your merchandise is getting the attention it deserves.