Display Risers for Multi-Tier Retail Accessory Merchandising
---
Display Risers - Tiered Merchandising Fixtures for Retail Environments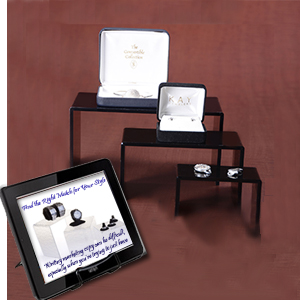 Does your business use display risers for merchandising? These versatile, affordable retail accessories are perfect for drawing attention to anything from tiny rings and earrings to boxed sets of DVDs or books to shoes, handbags and everything in between. Countertop display risers, also known as tiered merchandising stands, work in any environment, and not just merely retail stores. The sheer variety of sizes and styles can accommodate everything from collections at home or in galleries to food items in hospitality and catering environments. Jewelry display risers used to showcase media or elecronic items are common sights everywhere from discount outlets to specialty boutiques and beyond. These lightweight adjustable props can be used singly, in sets or in combination with other fixtures to ensure that customer attention is directed where it will make the most impact.
What materials are used to create tiered countertop merchandising stands?
Lightweight plastic display risers are among the most economical of all retail accessories, and come in a variety of colors, styles and finishes. Clear acrylic is ideal for nested cubes for jewelry or accessories or adjustable constructions that can support a number of different size merchandise, as it is affordable to produce and easy to purchase in bulk for consistency. Neutral finishes like black or gray and finish patterns give the simple styles and colors a visual boost to help draw customer attention. Simple plastic tripods make great trade show or event accessories, in addition to point of sale retail use in stores, galleries and other locations.
Steel wire constructions are a great alternative to nested styles and come in a variety of designs. Heavier displays or cubes are particularly in hospitality environments as holders for everything from serving dishes to floral centerpieces. Lightweight wire stands come in a choice of fixed or adjustable fixtures and can accommodate everything from multimedia tablet displays to books to decorative plates to hand-crafted artwork.
Classic wood counter & tabletop risers are available in a variety of finishes to match any décor. Although light in weight, their natural construction gives these tripod-style fixtures a classic, furniture-style feel, despite their frequently small size. In
Risers are one of the easiest ways for retail merchandisers to draw attention to particular selections in stores or specialty departments. From high end jewelry or accessories to sale merchandise to trade show samples and restaurant menus, these simple props can help increase customer awareness and help boost sales in any environment.