Gift Card Displays for Retail Cashier Stations
---
Gift Card Displays Dispense Prepaid Store Certificates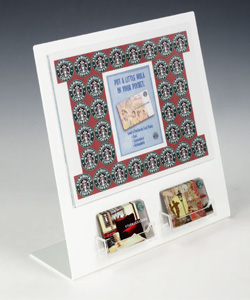 How are gift card displays used to sell pre-paid merchandise? These business stands are must-have sales accessories for shop environments with check-out stations. These gift card displays, store credit holders, are small countertop racks to be placed near a the cashier's area. These plastic accessories have pockets from which to dispense prepaid items for gas, phone minutes, music, and more. These gift card displays, also known as store credit holders, can showcase items in multiples or singles depending on the configuration. Customers are encouraged to spend more when these fixtures are in plain sight advertising certificates!
This card display for a counter that is a store credit holder is a great item for boosting merchandising. The countertop racks can accommodate coupons or prepaids that get noticed! This acrylic stand draws attention to a smaller item that might be missed if just left in a stack on a desk or shelf. These gift card displays that are merchandising accessories for certificates have lots of thematic possibilities (think birthday, and holidays!)
Where are these plastic store credit holders typically used to best advantage?
These gift card displays are placed strategically to capture customer attention on the way out of a shop.
Gas Stations and convenience stores place these pre-paid fixtures by the register to encourage last-minute purchasing (and encourage gas-budgeting!)
Department stores, toy shops, hardware outlets, and other places where coupons, discounts, and certificates are offered love these supplies!
Restaurants and cafes are famous for placing impulse inventory like music and coupons and gifting by the cashier's spot!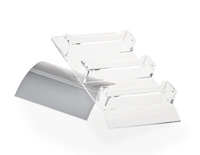 What designs are available when it comes to helping these store credit holders boost sales?
These accessories are great for pushing prepaid items like phone minutes, music, and more!
These small displays are often seen in grocery stores at the check-out station, encouraging last-minute purchases!
These tiny fixtures are the perfect size for placing in cafes and restaurants to dispense coupons and birthday presents!
These small poster displays that are gift card spinners are excellent business fixtures on a smaller scale, and they are among the vast array of professional fixtures for showrooms and offices that make the sales of gifting easy! Buy these card displays at already low prices are even cheaper in bulk! This certificates dispenser can mount a menu or a series of smaller handouts. For quality custom supplies like menu stands, to sign holders, visit Storefixtures.com, #1 displays website in America!
Whether pockets systems, shop signage, or television stands, the supplies at this website are constructed of durable materials and built to last - and impress your business customers! Our company is your go-to for card displays of all sizes and shapes. Our customer care team looks forward to helping you place an order, or if you need more information on merchandise call us today at 1-800-572-2194. Don't forget to ask about 24-hour for in-stock products! Like these gift card spinners? There's more where quality countertop racks and floorstanding supplies like these came from - call us today! Custom designs are available - inquire within and a quote can be provided in hours!