Museum Display Cases for Showrooms & Galleries in Economy & High End Designs
---
Museum Showcases - Exhibit Display Cases for Fine Art or Antiques, Retail Accessories & Merchandise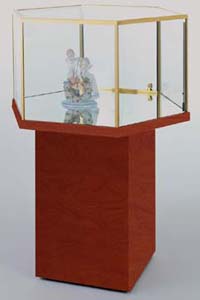 Does your gallery or storefront need museum display cases for artifacts and collectibles? Display fine jewelry or watches, and artwork in this exquisite acrylic and veneer storefront cabinetry. Galleries and showrooms consider merchandising displays part of their shop décor, and so beautiful design is important. These expertly crafted museum display cases for exhibitions, also known as gallery cabinetry, are made of durable tempered glass or economical acrylic combined with MDF wood. Purchase in bulk for big savings!
Available in a multitude of finishes including black, silver, cherry, maple, oak, rosewood, and veneer, each of these museum display cases, such as quality showcases, have never been more interesting! Purchase several compatible units from one line of merchandise to keep a unified look in a storefront. Each of these museum display cases in a variety of shapes such as hexagonal or square, in short or tall heights to suit collectibles or artwork.
What styles are offered individually or in a featured line at this website?
Museum display cases come in a multitude of designs, finishes, & configurations at this website.
Finish: Traditional & modern maple, rosewood, oak, veneer, black, & silver on durable MDF that resembles solid wood and looks high end, at affordble prices!
Configuration: Square, hexagonal, tall, short, these fixtures showcase any type of merchandise, from historical artifacts to intricate diamond watches, and can be combined to outfit a store! Pedestal styles with Queen Anne or straight legs are also offered.
Construction: Tempered glass is durable, protective, and absolutely beautiful for higher-end units; acrylic is every bit as attractive but cheaper for stores on a tight budget!
Illumination: LED, halogen, or track lighting ensures that small, finer items can be seen from any angle; choose a unit with a mirrored deck to create added beauty and light-bounce!
Track, LED, or halogen lighting options guarantee visibility for expensive or smaller items that are hard to see without visual prompts. Other features include a mirrored deck to create drama around an exhibit using illumination. For top end units, tempered glass is used for durability and safety - on the outside chance it breaks, the pieces would be round, not jagged. Shelving is height-adjustable, giving retailers plenty of placement options. Pedestal shapes with straight or curved legs are great for interactive exhibitions and staff-customer exchanges, creating a dynamic sales environment.
A short lead time makes this display cases highly sought after by busy retailers and art gallery managers who aren't used to that kind of expediency! Economy selections can be same-day shipped! Full vision units such as these can be seen from every angle so customers don't miss the selections. To outfit an entire storefront, glass and acrylic cases come in a compatible line of wood grains and styles for cohesion. Buy this museum display pedestal to influence shoppers to buy your goods in a thoughtfully presented exhibition!
For nearly 40 years Storefixture.com has been a distributor of well designed, affordable, quality point of purchase merchandise for retail, office, and even the home. Select a pedestal or complete store configuration from more than 4,000 pieces of quality merchandise for sale! Chat with a friendly rep live, or call directly to place your order. Ask about same-day shipping opportunities!