Display Cases - Commercial Merchandise Cases and Store Counters
---
Outfit Department and Retail Stores or Specialty Shops With Display Cases
Presentation of inventory is one of the most important factors when to convert a sale. Display cases come in a variety of styles, shapes, sizes and colors to outfit retail & department stores. Store counters, register stands and cash wraps serve multiple functions and when set up properly help increase work flow. Configure different arrangements by purchasing matching sets of retail display cases and checkout stations. While outfitting a store requires many different supplies, shelving and other fixtures (which we also happen to sell), display cases are really the glue that holds the entire layout together.
OK, so you're sold on needing some cases and counters, but are probably wondering where to start. It helps to begin by drawing a layout of your store so you understand the "nuts and bolts" of your layout. Really think about the space and how you want customers to flow through your store. Ideally you want to start with cash wraps or register stand. The most important part about running a business is making the sale, and it's tough to do without a station for customers to pay you! We offer entire cash wrap configurations as well as individual counters, so buyers can mix and match to meet their needs.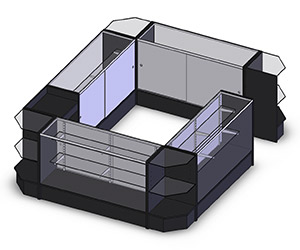 What type of display cases are available?
Traditional cases - Place large showcases up against the wall for collectors' items and other valuable merchandise. Some showcases are full vision so customers can view the contents from any angle.
Ledgetop Counters - An ideal choice for retail, ledge counters "hide" the register from customers and give employees places to bag products, leave personal belongings or paperwork.
Wall Cabinets- Conserve valuable floor space all while presenting merchandise more prominently with the raised location.
Cash Wraps -Department stores often set up multiple checkout stations in one island style set up, which also helps the employee be in a position where they can watch the register and help customers at the same time.
Register Stands - These small cases set up a space conserving checkout station.
Looking for something on a smaller scale? Countertop display cases are ideal for collectibles, sports memorabilia and electronics. Locking cases keep items secure and customers can only access them when they are being helped by an associate. Cases can also be placed eye-level with the customer for ideal viewing. Some displays rotate to encourage full viewing. Trading card and memorabilia stores commonly use countertop showcases to highlight specific items. Many pedestal showcases are available as well and are a perfect fit for retail stores or museums. Really draw attention to that prized product with a pedestal display.
We also offer plenty of great options to display your collectibles at home. The Howard Miller Collection features cabinets with fine wood grain finishes and furnished knobs. Different finishes help meet any home dining room collection and make the ideal display for fine china, silverware and other wedding gifts or family heirlooms.