Commercial Trash Cans - Professional Grade Wood, Plastic & Metal Waste Receptacles
---
Commercial Trash Cans - Garbage Containers & Bins for Waste and Recycling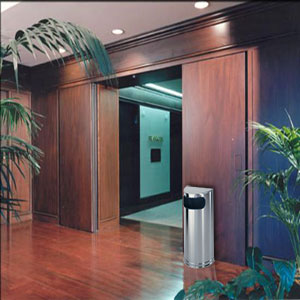 Do you need commercial trash cans to eliminate unsightly litter and accommodate recycling both indoors or outdoors? We have a variety of containers and receptacles to meet the needs of any waste management or sustainability program. These commercial grade receptacles and cans are made for keeping stores, businesses, parks and restaurants fresh and clean. The waste and recycling bins are available in various colors and styles to best match your décor or your retail needs. Choose from recycling containers, ashtray stands in plastic, wood, or steel models to match both waste management program needs and business decor. Having a clean, environmentally conscious and litter-free space is the key to running a successful and respectable operation in any industry. Public areas frequently require ADA-compliant fixtures. Our wide selection of waste bins and facility receptacles is designed to meet the specific needs of almost any business. We offer smaller, 7-gallon bins as well as 56-gallon containers for larger waste needs. The durable and stable designs are perfect use in high traffic areas. All of our trash receptacles are made for floor-standing use both indoors and outdoors. Push-top bins are equipped with easy load doors to make discarding of rubbish clean and simple, while other models feature open access or front and back openings.
Where can these waste management bins be used?
High quality commercial trash cans are perfect for office use. Place in lobbies, foyers, cafeterias, or within conference room settings.
Heavy duty plastic waste bins are great for outdoor use as well. Use in parks, playgrounds, community centers, parking areas, or campgrounds to keep rubbish from polluting the environment.
Polyethylene recycling bins can be used at home or in the office to separate items and keep trash organized for pick-up.
Freestanding ashtray stands and containers are perfect for outside of non-smoking areas like restaurants, bars, clubs or theaters. Keep cigarettes and other trash off the ground and contained.
Sustainability programs are an important aspect of facility management in business, commercial, and education environments. Concerns can range from having ADA-compliant fixtures in public areas to offering clean, easy to follow labeling to identify different recycling areas and materials. StoreFixture.com's selection of wood, plastic, and metal waste receptacles offer a variety of finish colors and access styles to match every need. These recycling and litter cans offer differing labeling and access options for best use in public areas. In fact, many of our ADA-compliant recycling or garbage cans are constructed using post-consumer recycled materials, making them an economical and environmentally friendly choice for any sustainability program.
The containers are designed to be easily movable making them the ideal fixture to place anywhere in a retail setting or business. Choose from silver, gold, black, grey, tan and white models to best match your interior or exterior design. All the bins are made from heavy duty material that resist dents and are stable in high-traffic areas. Create a clean, healthy and environmentally friendly environment with the use of trash containers!