Facilities Management - Reception & Maintenance Accessories, Fixtures & Furniture
---
Properly Maintain Facilities With Lockers, Cleaning Carts & Trash Cans
Proper maintenance of facilities and grounds or industrial business buildings can be a daunting task. But, with the right supplies, seemingly overwhelming projects become much more feasible. Maintaining trash and keeping a clean property is highly important to keeping your facility attractive and clean. Poorly maintained facilities can be an instant turn off for paying customers. Use service carts for employees to easily be able carry all necessary cleaning supplies to keep your business in tip-top shape.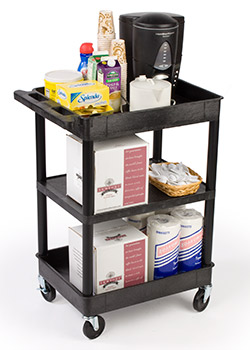 Steel lockers with modular capabilities can be purchased in single or multiple sets for outfitting athletic centers, schools, or employee rooms. Janitor carts help to keep your retail institution clean and organized. The service carts are perfect for moving merchandise from the back room out onto the sales floor without taking up too much room. Service carts, unlike pallet jacks, take up much less floor area and are less hazardous if left out on the sales floor. A store fixture, or service cart, is also helpful for cleaning up spills and messes with accommodation. The cages and shelves permit you to store various cleaning offerings, so you have all you want on hand at any given time. Store fixtures, additionally waste containers, are also necessary for keeping any retail store fresh from debris and trash.
Dunnage racks help keep supplies off the floor to prevent moisture and dampness from seeping into boxes. The slightly raised design also makes it easier to stack and prevents employees from having to bend all the way down to grab heavy boxes. The sturdy construction and vented bottoms is greated for bottled liquids like water and soda that may sweat if the temperature is high. Moisture will fall through the rack instead of pooling at the base. Different sizes are available to accomodate different storage needs.
Waste cans and recycle bins are a necessity to any type of business. Affordable plastic cans for indoor or outdoor use are a simple, generic option, while metal receptacles feature a more impressive presentation. Standing ash trays and ash/trash receptacles are ideal for places with a high amount of smokers (like bars and restaurants). Mix and match different color bins to match decor, or have different colors to mark trash versus recycling.