Gridwall Accessories for Retail Merchandising Displays
---
Wire Gridwall Hardware - Hooks, Hangers and Specialty Retail Displays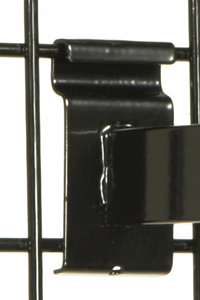 What would retailers do without gridwall accessories to display and promote merchandise? These versatile hooks and hangers are designed to showcase and organize displays in high traffic, high visibility areas. Commercial gridwall displays combine the strength of durable acrylic or steel wire construction with a lightweight open grid design that focuses customer attention on the merchandise and not the fixture. From basic hooks and baskets to specialty hangers and sign holders, this type of panel accessory allows in-store merchandising to be configured to exactly match inventory needs. High visibility gridwall accessories, also known as wire grid display hangers, attach easily to grid panels, making them a perfect choice for use in exhibit or trade show booths as well as in retail environments. StoreFixture.com offers a wide selection of hooks and hangers that allow retailers to create organized, space saving merchandise displays that will attract customers.
What types of wire grid display hangers are available?
Gridwall accessories feature metal, wire and acrylic construction to accommodate a variety of merchandise sizes and weights.
Faceouts are horizontal display hangers that can be made from either straight or tube-formate metal.
Waterfall Hangers are designed to create an angled display that separates each item for maximum visibility. This type of retail fixture is ideal for clothing displays, and comes with either ball, slot or hook hangers.
Peg Hooks take advantage of the strength of metal construction to create slender wire displays that can hold significant amounts of weight. Available in a full range of lengths to accommodate different size merchandise, pegs are perfect for aisles and end caps as well as for POP displays.
"C" Brackets, sometimes called "U" Brackets or Hangrails attach to wire retail fixtures at both ends, creating extraordinarily secure retail fixtures that can be set at any height on the panel.
Grid-Mount Shelf Brackets & Shelving are available in metal or acrylic. This type of specialty fixture is perfect for non-hanging items such as books and fragile merchandise.
Specialty Hangrods & Displays are available that perfectly showcase particular items. Picture hooks, garment pegs, hat racks and chip clips are all available to accommodate inventory and special sales.
Wire Baskets bring the convenience of a dump bin with the ease of accessiblity and movement offered by wire grid retail fixtures.
Sign Holders and Signs come in a full range of styles from slide in rack toppers to mid-panel write on displays.
Gridwall hardware is one of the most versatile categories of retail accessories and can be configured to meet almost any display need. Durable construction and user-friendly design means that hooks and hangers are sturdy while in use but can be unclipped easily and moved to different locations as needed to accommodate changing inventory and sales. The universal format of grid-based retail fixtures means that a single hanger will attach to a wall-mounted wire grid panel, a freestanding gondola, a pop-up trade show booth rack and an in-store end cap.
The ability to reconfigure merchandising displays quickly and efficiently means that retailers can move and reposition stock as needed to avoid dead spots and take advantage of customer traffic patterns. The variety of gridwall hardware means increased visibility for all types of goods, no matter what size or shape. Small impulse items that might fall off traditional shelf formats are easily contained in wire baskets without losing visibility. Longer hooks accommodate larger hanging merchandise, while shorter pegs are ideal for drawing attention to a single higher-price item. Specialty display hanger such as waterfalls and hangrails are ideal for keeping clothing organized, while faceouts and wire bins support almost any type of goods. Sign holders with grid hooks are perfect for both branded messaging and hand-written sale information.
Wire grid hardware is one of the most versatile and economical types of retail fixture accessory available on the market. From everyday retail fixtures to specialty in-store or trade show display hangers, these metal and acrylic hooks and hangers allow retailers to draw customer attention to stock and inventory displays, keeping sales floors and booths organized without reducing either visibility or accessibility.