Gridwall Displays - Panels, Towers and Merchandising Accessories
---
Gridwall Offers Unique Display Advantages Over Similar Store Fixtures
Gridwall is a very versatile display type and is one of the most effective tools for a constantly revolving store setup. When operating a business, saving time and cutting costs is one of the most important factors for success. Gridwall displays give owners the opportunity to do both. The quick-change ability will save employees time to take on other pressing tasks, and the affordable pricing will help keep some extra money in your pocket.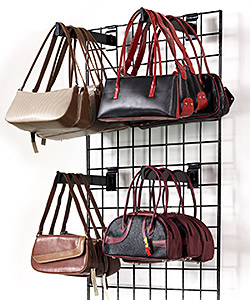 Gridwall panels are the most popular in our wide selection. Using wall mounting panels helps save a lot of space and is very easy to manage. Use them commercially to store clothes or POS items. These fixtures can also be used to display artwork at art fairs and festivals. The benefit of using these panels is that bases can also be purchased to turn them into a floor standing fixture instead of having to purchase an entire new unit.
Towers and kiosks are great for placing in store aisles and take advantage of every inch of retail space. Bases can be purchased with our without wheels depending on your need. Mobile stands offer some huge advantages, especially at department stores with multiple sections to manage. Stationary fixtures work better in certain situations because the will remain firmly planted, whereas mobile towers may still move around a little bit even if the wheels are locked. So many different arrangements are available, so we're confident you will find the shape, style and size of gridwall display you need.
To put the finishing touch on any grid fixture, accessories are a must. Choose from baskets, hooks, rails and sign holders. Cascading or straight-arm shelves offer different options for different styles of clothing. Small peg hooks are great for snack packs, chips and other blister pack items. Several different sized wire baskets allow merchandisers to pick based on what type of items they are going to be selling. Sign holders are great for advertising sales or marking prices of products. Sign holders are available that attach directly to the grid or on top of the grid to save room for merchandise.
What major advantages does using a gridwall setup have?
Compatibility - All accessories and fixtures can be mixed and matched to create new arrangements, making reorganizing any store a seamless procedure.
Affordability - Low costs allow merchandisers to outfit there entire store without breaking the bank.
Mobility - Many stands feature locking casters on the base, allowing you to push displays and rearrange setups on the go.
While many are available with your panel or tower purchase, bases and wall mount brackets are also available separately. This allows users to interchange the wall different displays are used as needed? No longer have space on the wall for a panel or 2? Purchase a floor standing base to move them elsewhere and create a kiosk. Accessorize with various baskets and hooks to meet specific needs.