Slatwall Panels are Commercial Grade Slatted Merchandising Displays
---
Wall Panels and Freestanding Merchandising Kiosks with Slatwall Grooves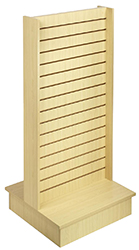 Looking for commercial-grade slatwall panels for high visibility merchandising in public environments? These customizable wall fixtures and freestanding kiosks are designed to accommodate a wide array of accessories, hangers, hooks and frames. Stands like these are great for advertising and showcasing a variety of items in almost environment including supermarkets, specialty and general stores, banks, bookstores, clothing departments and boutiques, and professional environements. These verstatile slatwall panels and kiosks, or retail merchandising fixtures, are designed to easily accommodate a variety of different accessories, such as shelves, hooks and baskets that hold merchandise in plain sight. These specialized slatted fixtures include one or more mounting surface with 3" slats or grooves for fitting different add-ons. These versatile slatwall panels and kiosks are available in a variety of sizes, finish colors, and design configurations to meeting the merchandising and marketing needs of any industry, including retail, finance, manufacturing or business offices, educational institutions, service industries and hospitality environments.
What styles are available with these slatted merchandising display fixtures?
Slatwall panels include 2- or 3-sided stand that measures 24" wide and 73" tall (2-sided) or 71" tall (3-sided). These units are made from laminated MDF in one of three shades: black, red mahogany or maple. Some models come with a custom printed header in one color that can be used for text like "Information", "Sale" or branding information. Their 24" x 43" mounting panel for literature holders or merchandise racks features 15 to 16 channels on each side.
Retail kiosks are also sold with a gondola design, with a shorter but longer frame. This type of merchandising fixture has 2 or 4 sides for displaying accessories and they come in black and maple. Suited more for commercial outlets rather than as information booths, the towers measure 54" tall and are made of durable laminated particle board. Some models include shelving for extra convenience.
Another design of the mounting panels are the single-sided stands that feature an egg-crate design. These models have a lightweight plywood construction that can be assembled just by fitting the interlocking pieces together with a mallet. The retail kiosks have (12) channels for slat accessories, and some units come with (48) hooks measuring 4", 6", 8", 10" or 12" long. They measure 31.3" x 64.4" and their collapsible design allows them to be brought to new locations with ease. While they have a "single-sided" design, their channels are open on the back for hooks, baskets and other holders.
These shelving stands all feature channels separated by 3" to accommodate a wide variety of accessories. These include simple metal hooks, angled faceouts, baskets holders for magazines, brochures and catalogs, and even poster frames for advertising. With shelving units like these, users are able to come up with any number of layouts and configurations to meet their commercial or promotional needs. Other compatible extensions include price tags, plastic bins and specialized holders for wares like cell phones and sunglasses. This means the merchandising fixtures can even be brought to events like trade shows to dispense promotional literature and product samples. With a customizable header, exhibitors can have their company name printed to easily increase awareness from a distance.