Slatwall Accessories for Retail Stores & Shops
---
Slat Wall Accessories - Retail Panels, Shelves & Hardware Systems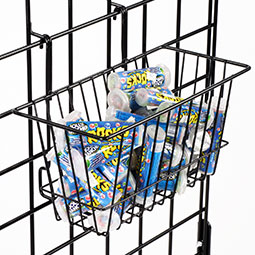 What's the best way to select slatwall accessories that are compatible with wall- and floor-standing store fixtures? That's easy - just visit our online store now! Shop our impressive array of panels, hooks, shelves, signs and literature pockets designed to work with our vast collection of store fixtures. From melamine shelving, to clear acrylic bulk storage bins, these slatwall accessories are easy to match with compatible displays.
Instantly add storage to your floor standing gondola by attaching a shelf or panel. Place a hat hook or plastic bin attachment by a register for toys or snacks to entice customers to make one last purchase. Expand the display area in a smaller shop by mounting a horizontally oriented waterfall face out designed to hold many hanging items at a time. Using hooks, sign clamps, pockets, and panels to expand storage and display space in your shop or showroom is cheaper than a renovation, and more fun than moving! Placed at a POS checkout station, these slatwall accessories, like store hardware, are designed to send "hot" merchandise quickly off the shelves.
What types of attachments are available for these types of displays?
Slatwall accessories come in tons of different styles, materials, & finishes for different uses. Expanding shop store & office space is easy when no tools are required for installation.
Pricing labels, hat displays, sign clamps, & metal shelving in straight-arm & hang rail styles effortlessly store & display wares.
Peg hooks, hardware, and faceouts (both straight and "waterfall" styles) in wood & metal are great space savers.
Bins, poster holders, & brochure pockets in wire & acrylic hold smaller bulk items & pamphlets; some models include signage.
Acrylic, metal, wood, & melamine shelving panels & attachments make extra room for merchandise in small stores.
Retailers love wire grid and acrylic slatwall accessories and compatible displays for apparel and convenience store fare due to the unique, modern design that allows installation without tools, nails or screws. Everything needed to outfit an entire showroom is at your virtual fingertips, with quick shipping options and no-hassle installation. What's more, the modern styling of these wire grid, metal, and acrylic showroom fixtures give any retail space a fun, contemporary edge, enhancing the décor without a drop of paint. These slatwall accessories, also known store display hardware, supports wire grid, metal, and acrylic panel, shelf, or hook systems for every shape, size, and genre of goods - from clothing, to snacks!
Slatwall brackets for wall and floor standing store displays are the best way to go when shop owners don't have a lot of time on their hands to mess with tools they don't have time to learn to use. Multidirectional systems are a great way to conserve valuable floor space in a small shop. Storage is a breeze, and these containers once mounted with the accessories like toys, candy, and cosmetics are easy to move around if you change your mind. There's no penalty for retailers who change their minds with these shelf mounts, hat hooks, brochure racks, and cabinet panels around!