Slatwall Displays and Accessories Including Hooks & Bins
---
Slatwall Displays Improve Flexibility of Store Fixture Setups
Slatwall is incredibly popular among retailers because of its unparalleled versatility. It's important for retail stores to be able to easily switch up how they are merchandising items so that more popular inventory is easier to access, or clearance items are in a more prominent location to help sell it faster. Panels, kiosks and towers can be customized with accessories like shelves, hooks and baskets to outfit an entire retail store. Universal slats allow for all accessories to be used on every store fixture.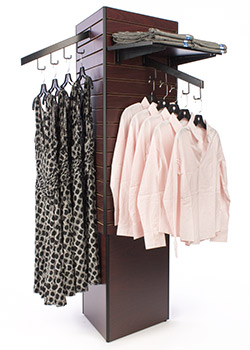 Slatwall panels are incredibly popular amongst many different types of retailers. Panels are easy to wall mount behind a counter and help conserve floor space. Square and rectangular options are available. Customize with baskets for novelty items like chapstick or toothpaste. They also make great information stands. Hotels and tourism centers can rig a panel with literature pockets to give customers access to free promotional and reading material. Take advantage of the header space to label products or materials. Panels are popular for residential use too. Garages and basements can take advantage of panels to hold tools and supplies like nails.
Slatwall kiosks and towers are popular amongst clothing and department stores. Standalone fixtures can be placed in aisles to make auxillary sales while customers browse your store. Pair them with clothing hooks to display clothes and garments. Various shelves are available in acrylic, MDF and metal. Specialty syles of shelves are available as well, including shoe stands. Shoe stores consistently use slatwall to display sneakers. It's simple to readjust a sneaker wall to highlight an entire line or accomodate for larger shoes like winter boots.
What type of retailers commonly use slatwall fixtures?
Shoe Stores - Since shoe stores often have such a wide selection, there is a huge need to be able to adjust merchandising.
Convenience Stores - With lots of small items for sale, it's important to display themselve where there are easily accessible. Convenience stores often use baskets to sell niche items.
Clothing Stores - With a variety of different items coming item, slatwall makes it easy to change around setups instead of having to purchase new displays.
The accessory selection will work for any store, any setting, any situation. Clothing stores will benefit from different style hooks and faceouts. Choose from a variety of shelves to best suit your needs. Looking to make quick sales on POS items? Try use baskets and bins to display travel essentials. Various sign holders are available so items can be labeled with price or other pertinent information.
The single biggest advantage of slatwall is how quickly in-store marketers can turn over merchandising displays. Stores with a seasonal rotation can reap the rewards of being able to quickly change your setup. With the right accessories, a gondola setup that is displaying hats and purses can be converted to a clothing rack in a matter of minutes. Having trouble drawing customers to a specific item? Create custom signage to advertise sales and use a slatwall sign holder to place it above a shelf or next to a waterfall hanger. The possibilities are endless.