Best Selling Store Fixtures Are Popular Retail & Commercial Accessories
---
Shop Customer Favorite Store Fixtures & Best Selling Accessories
Looking for advice on finding the best selling store fixtures for retail, commercial, industrial, educational, and professional environments? Finding the perfect match for particular display needs can be difficult, especially when there are 1000s of sizes, finishes, and configurations from which to choose! We've selected our best selling store fixtures here, items ranging from simple hooks and sign holders to cash register stands and display shelving. Effective, targeted marketing plans for any establishment — shops and other sales environments, service businesses, professional and non-profit organizations, and reseller outlets — always need physical furnishings and acoutrements for displaying or advertising merchandise, messaging, or samples. Our best selling store fixtures, also called the most popular retail accessories for commercial use, represent all the different functions that go into a successful business endeavor.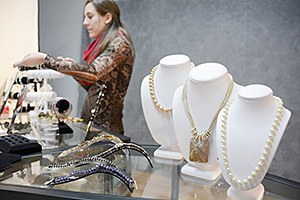 Looking for commercial displays and equipment that will attract customers and increase revenue? Choose an eye-catching sign for indoor or outdoor advertising. Display fine apparel and accessories, furnishings, or giftware with outstanding showroom cabinetry and stands. Purchase commercial displays and equipment that follow new trends and promotions, or choose classic, traditional designs that have stood the test of time. The most popular retail store and commercial business accessories, like the top selling store fixtures shown here, show the full range of finish colors available to match any decor design or theme.
Standalone retail displays, including cash wraps and lockable point of purchase counters, can be placed anywhere throughout a retail setting. Creating a shoppable environment is crucial to increasing turnaround and profits. The most popular store fixtures enable merchants to configure layouts that are suited to the goods being displayed and the shopping style that suits their customers. Retail store accessories and equipment help define the look and feel of a commercial outlet in all stages of growth and development, whether creating a new business or building, or remodeling an older one. A large array of store supply solutions for commercial displays are available that offer economical, high value options, including fast shipping, for businesses outfitting a shop or showroom.
Store fixtures that are placed tactically in a retail showroom attract shoppers who have specific purchases in mind. Retail displays can also make a commercial environment feel cramped and chaotic as well, if the floor plan is not well-thought out. Making the most out of the store supply you purchase for your establishment is very important. Viewing and creating a floor plan often helps companies visualize their ideal design, and allows them to see how much space is available for particular racks, counters, and tables. There are many designs to pick from. The commercial displays and store fixtures offered here, such as our cashwrap and checkout counter configurations, all include full dimensions, allowing businesses to create designs and layouts that will encourage customer flow and engagement.
These customer favorite retail fixtures and equipment include a wide choice of high visibility sign holders as well as commercial displays. Retail signage is also another key feature for use in any commercial location. Advertising in-store specials or promotional events is a key way to attract customer attention. The most popular store fixtures to advertise such promotions are sign frames. Informational signage is ideal for informing customers, maybe of a particular sale is featuring, or even to inform customers of your location's hours of operation. Directional signs, on the other hand, can guide customers through to a focal point in your floor plan.
In addition to signage, we also stock various other useful commercial displays, all available for quick shipping from our real-world warehouse. We have one of the largest selections of display cases, slatwall assemblies, gridwall components, and more, allowing us to offer low wholesaler pricing on ever order. No matter what you may be looking for to purchase for your business, our extensive product selection is bound to have what you need!